Report on WWD2011 in Biwa-ko, Nagahama City, Shiga Pref., Japan
Jun Ueda (Biwa-ko Waterfowl & Wetland Center)
http://www.biwa.ne.jp/~nio/eng/index_e.html
(in English)
(in Japanese)

---
Congratulations on 40th anniversary of Ramsar Convention !
The entrace of Biwako Waterfowl & Wetland Center (BWWC) looks like a face of Little Grebe (as shown in Photo1).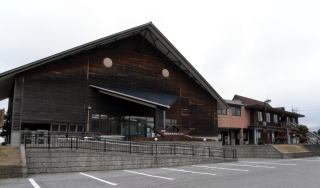 Photo1
The entrance of BWWC looks like a face of Little Grebe. Little Grebe is the symbol bird of Biwa-ko. Building on the right is Kohoku-Wild Birds-Center that has birding facilities for watching waterfowls in Biwa-ko.
Lake Biwa (Biwa-ko) is the largest lake in Japan. It was designated as a Ramsar Site in 1993. In 2008 Nishino-ko which is a marshy lake attached to Biwa-ko was added to the site.
On 24th February (from 14:00 to 16:00), we celebrated WWD2011 with two ornithologists from Kamchatka, Russia in the meeting in BWWC.
The meeting was hosted by BWWC, and supported by Biwa-ko Wetland Study Group (BWSG http://www.biwa.ne.jp/~nio/ramsar/projen.htm).
The program of our meeting were;
Opening speech: Sachio Shimizu (Director of BWWC)
Lectures
(1) Hisashi Sugawa (BWSG)
gRamsar convention and WWD; CEPA and Wetlands Inventoryh
Sugawa talked about three publications for understanding 40-year history of the Convention. Not so many people know about these. These useful publications are translated to Japanese. The first one isgThe Ramsar Convention on Wetlands: Its History and Developmenth written by@G. V. T. Matthews, and published in1993. The second one isgThe Ramsar Convention Manual 4th edition@(2006)h. The third one is the booklet published by BWSG. The last two are available in BWWC.
(2) Y.N. Gerasimov & N.N.Gerasimov
(Kamchatka Department of Pacific Institute of Geography of Russian Academy of Science)
g The bird sites of international importance on Kamchatkah
New step (of developing) of Ramsar program in Russia was made in 1994 when Russian government has been designated 35 wetlands as Ramsar sites. The sites include 4 wetlands from Kamchatka: Parapol, Karaginskiy Island, Moroshechnaya River and Utkholok Cape. Ornithologists have continued to gather information about important wetlands for birds in Russia. As results the shadow list of Ramsar sites of Russia was published in 2000. It includes 175 wetlands, and 14 of them are on Kamchatka.
Short Comments
(1) N. N. Gerasimov@hProf. Y. A. Isakov and USSR supported the beginning of Ramsar Conventionh When Sugawa first met N. & Y. Gerasimov in the 18th Ornithological Congress in Moscow (1982), they met Prof. Isakov who was one of key person at the beginning of the Ramsar Convention as mentioned by G. V. T. Matthews in his book (1993).
(2) Hitoha Amano (Center for Ecological Research, Kyoto University & Lake Biwa Museum) hShorebird Site Network in the East Asia and Australasian Flywayg
There are 9 sites for shorebird of the EAA flyway partnership in Japan. Since 1996, the activities for CEPA, wetland management and research have been done for the conservation of shorebirds and their habitats by government, site managers, NGOs and researchers.
(3) Jun Ueda (BWWC) hActivity of BWWC for WWD2011h
Kohoku-Wild Birds-Center sets up WWD corner (Photo2) and childrenfs coloring sheets. (Photo3) .
Sending an yell to Ramsar Convention
To watch the video that all of the participants are shouting gCongratulations of 40th Anniversary of Ramsar Convention!h in Japanese, in English, and in Russian (Photo4), go to the following YouTube site. http://www.youtube.com/watch?v=BqzCXut1Ym4@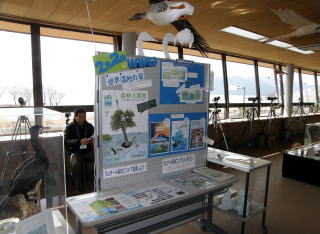 Photo2 WWD corner in KWBC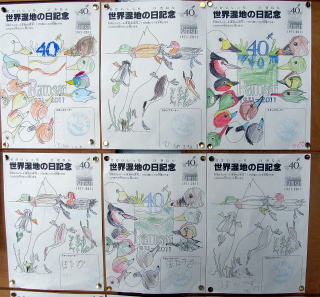 Photo3 Childrenfs colorings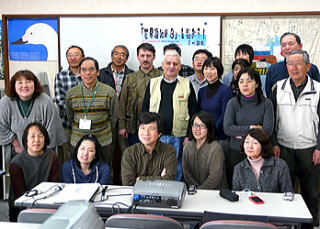 Photo4 Go to the following YouTube site
http://www.youtube.com/watch?v=BqzCXut1Ym4@
(Japanese) Biwako Mizudori Shitchi Center
(English) Lake Biwa Waterfowl & Wetland Center
(Japanese) Ramsar jouyaku Yonjuu-shuunen Omedetou!
(English) Congratulations on 40th anniversary of Ramsar Convention!
(Russian) Pozdravlyaem s sorokovoj godovshchnoj Ramsarskoj konventsii!


----------------------------------------------------
Related WWD2011 in Nishino-ko, Omihachiman City, Shiga Pref., Japan (29th January,2011)
http://vories.shiga-saku.net/d2011-04-01.html
http://vories.shiga-saku.net/d2011-04-02.html (in Japanese)